Get listed on Google My Business
Google often lists websites at the top of their search results that are listed on Google My Business.
For example, here (image below) are some websites listed on Google My Business and they appear at the very top of the listing for the results "Web design East Kilbride".
Users with Google accounts can leave reviews.  The more 5 star reviews you get the higher up this page you will be ranked.  (I am not listed at the top of this search, I will soon be asking you to leave me a 5 star review!)
You just sign in with your Google Account to create a listing and then Google send you a post card with a code on it to your address just to make sure you are the business owner.
This also gets you listed on Google Maps. All this helps!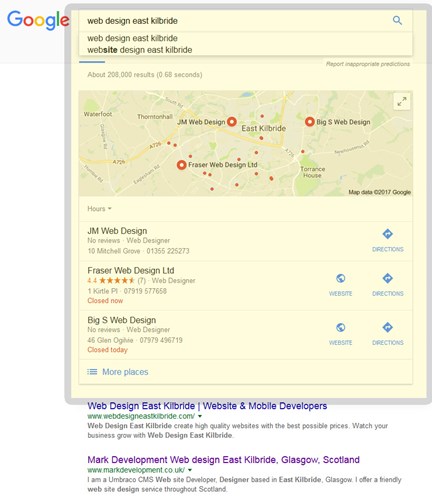 Here is how my listing appears on Google Plus:
This is an example of how you don't need to do everything at once. All I have done is link back to my website and at somepoint I will go back in and list my services and put up some nice images.
If you would like to leave me a 5 Star Review and have a Google Account, you can do so here.
(I will return the favour)